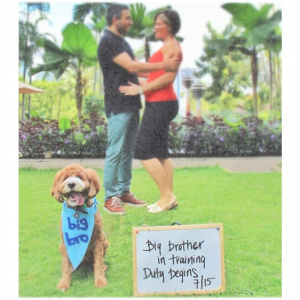 Expecting is a great way to ensure a harmonious transition from being a couple with a dog to becoming a family with a dog. This session will show you how to prepare your pet for the new arrival and equip you to avoid creating jealousy toward your baby.
We all need to learn to make our child important to our dogs rather than a rival, or someone to compete with. Jealousy is dangerous.
Our program covers the different phases that are relevant to your dogs learning and what you need to do at what stage of your pregnancy. Early preparation is the best way to ensure a smooth transition. This session is an investment in your little ones safety, and the future of your dog.
We recommend this class to be undertaken 2 months before the baby is due at the latest.
Our next available class is

Thinking of this as a gift to someone? We do gift certificates for this class – please Contact us for more information.